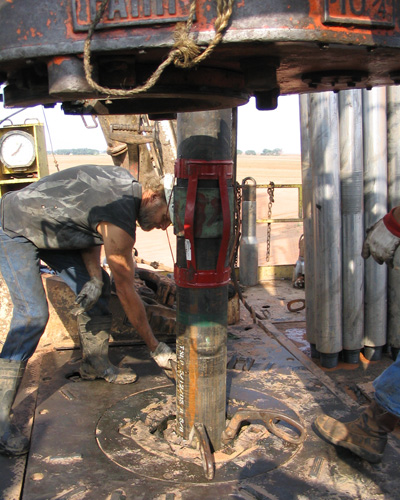 FUNDAMENTALS
Operation of Oil and Gas wells

Once drilling, testing, and completion of a well are finished, the equipment required to produce and sell the oil/gas is installed on the wellsite and production begins. The costs incurred once the well begins production are categorized as Lease Operating Costs. These costs include maintenance and upkeep of lease roads, production equipment and flow lines, pumper services, compensation to the operator for administrative, supervision and overheads costs, and workovers on the well if needed. Workovers are for downhole repairs made to the well and include additional gas/oil zones, which may be put on production. When a well produces salt water with the oil/gas, which is fairly common, there are costs associated with the saltwater disposal in compliance with environmental and regulatory agency requirements.
Sale of Oil and Gas

If the exploration or development well produces commercial quantities of oil and/or gas, an Operating Agreement is entered into between the investor and the operator. In most instances this is a standard form used throughout the industry and establishes the terms and conditions by which the well will be operated and expensed. Usually, the operator is given authority to negotiate oil and gas purchase contracts and to market and sell the oil and gas for all working interest owners. Oil Purchase Contracts can be for terms as short as thirty days but generally run for a period of one year. Gas Purchase Contracts are usually for longer periods of time, ranging from 2 to 5 years.

Both the oil and the gas purchaser are given ownership information. The oil purchaser usually remits to the royalty owners and sometimes to individual working interest owners. However, in most instances after remitting the share due the royalty owners, the amount due the investors is remitted directly to the operator for payment to individual owners. The gas purchaser remits 100% to the operator who then disburses to all owners.